What 'going offshore' actually means for digital nomads
19/01/2019 / by Robert Sládek
In this offshore guide for digital nomads I'm going to demonstrate a typical international solution that already works for many of my digital nomad friends.
Whilst the approach may not suit you exactly, it's just a single example of what can be achieved.  Your own solution will of course be individually structured to fulfil your goals and maximise the opportunities you have.
The first thing you need to know – and truly assimilate – is that the common rumour that Hong Kong is the place for offshore, tax-free banking is absolutely wrong. In fact, I'd go so far as to say banking in Hong Kong is dead – at least for digital nomads.
Hong Kong isn't interested in helping non-residents anymore – blame America's Foreign Account Tax Compliance Act.  Yes there are ways around this, but who wants a complex work around when a solution can be much simpler?
Establishing residence in a tax-free jurisdiction
What most digital nomads need is to legally establish their residence in a tax-free jurisdiction.  
If you do this you can then live and work and travel and enjoy a tax-free existence, entirely legitimately.
It's critical to understand the challenges associated with this opportunity however, in order to create the right solution.  For example, challenges can include the international legitimacy or otherwise of the jurisdiction chosen, the double tax agreements the jurisdiction has in place, and your own home country's rules relating to residency.
At Alpha Citizen we understand the challenges as well as the opportunities, so we guide you accordingly.
One of the most straightforward solutions we have for achieving legal tax-free residency for many of our digital nomad clients is our UAE package.  We will of course determine your own personal solution depending on your individual position, but here's how the UAE package works for many of our clients.
Incorporate a Free Zone Establishment, a company within the Ras Al Khaimah (RAK) free trade zone.

 

This has to be done via a registered agent of the Ras Al Khaimah Investment Authority, of which we are one. We complete the entire incorporation service for you.
With your business license in place, open a bank account in Dubai.This has to be done in person with a personal introduction.

 

As we have professional partnerships in place with the best banks in Dubai we literally walk you through this entire process.
Receive your UAE investment visa.

 

This grants you permanent residency status in the UAE for 3 years.

 

You don't need to be sponsored, you can come and go as you please, and as long as you maintain your company in RAK, which we will do for you, your visa is renewable for as long as you want it.
Who is this solution for?
This solution is ideal for you if you no longer maintain your tax authority's definition of a 'permanent residence' in your old home nation.  
Please note: we will help you understand what this means for you depending on your originating country of residence, and how exactly you can ensure you adhere to your home country's tax rules, whilst achieving legal tax-free status via the UAE.
Ultimately, this solution is ideal for those who want to be location independent, free to work and travel wherever and whenever they like…all the while enjoying their entire income free from the burden of taxation.
10 ultimate benefits of this digital nomad offshore solution
Tax-free living
No requirement to live permanently in the UAE
No requirement to have employees, file company returns or even keep accounts
The UAE is a well-respected, economically stable and strong destination not on any OECD, EU or US black lists
UAE is not even considered to be a tax haven, and so is on OECD, FATF and EU white lists
No need to have a local sponsor for your visa
Neither you nor your company will be affected in any way by Sharia Law
Ease of company incorporation, bank account opening and visa acquisition process thanks to Winston Wolfe's professional regulated status in the UAE
UAE has no tax or personal information exchange agreements in place, and many double tax treaties, making it one of the easiest places to establish confidential, legal tax-free residency in the world today
Finally, we offer a pre-approval service for this complete digital nomad offshore package with our unique money back guarantee.
Your unique Winston Wolfe guarantee
All Winston Wolfe clients are unique, and what makes us equally exceptional is that we give all clients our exclusive Winston Wolfe guarantee: -
You will receive free initial consultation
You will receive a bespoke offshore strategy
We will incorporate your company and open your bank account
If for any reason whatsoever we cannot fulfil any recommendation that we make, we will refund you 100% of the cost you have paid for that specific recommendation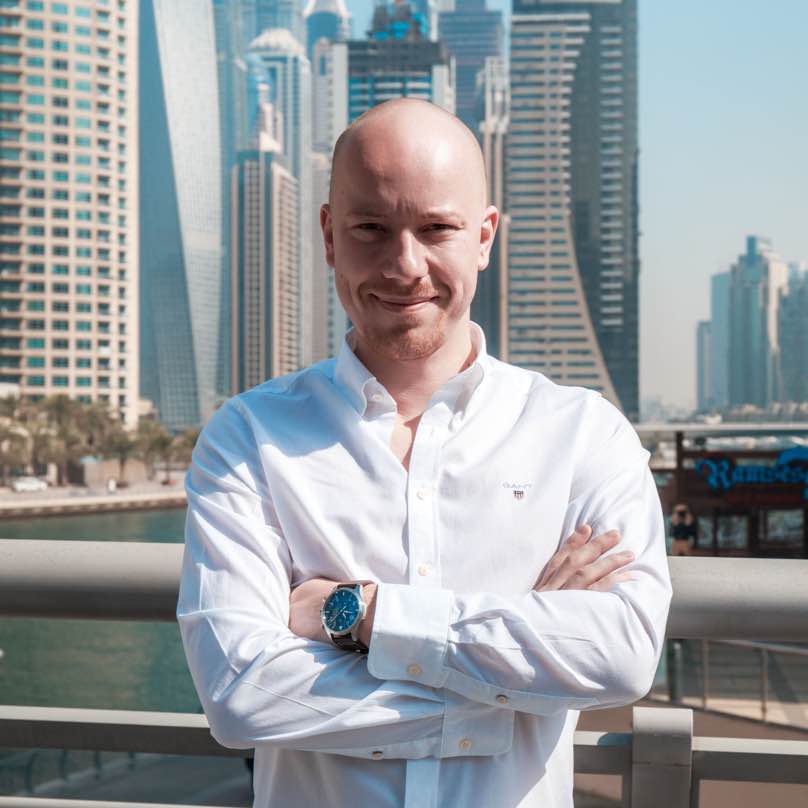 Digital nomads have the most chances to get full advantages of going offshore
Robert Sládek
Chief Executive Officer
Consulting services for digital nomads
We have been helping digital nomads and online entrepreneurs in general for more than 5 years. Being in online business ourselves and having a significant amount of knowledge associated with the legal side of it we fancy ourselves to be the best advisor to have.